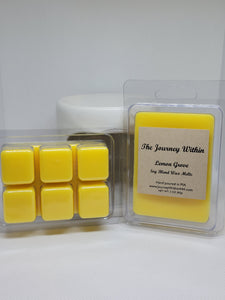 Lemon Grove Soy Blend Wax Melt
Zesty lemon and floral verbena combine in this uplifting fragrance. Bright, lightly sweet notes of citrus and sugar bolster a heart of lemon verbena and lemongrass.
Note Profile
Top: Lemon, Sugar, Lemon Peel 
Middle: Lemon Verbena, Lemongrass,
Base: Light Musk, Benzoin
Weight and Burn time: Package weight: 3oz.  1 cube Burn Time: approx 8 Hours
Product Details: 
- Parasoy wax blend
-Reusable until scent fades (approx 8 hours burn time)
- Infused with natural essential oils including lemon peel, litsea cubebe fruit oil, citronella, eucalyptus, elemi, geranium
- Individually hand-poured, hand labeled and crafted in small batches
Uses & Recommendations:
- Make sure to read all instructions that come with your wax warmer.
-Place 1 or 2 cubes or tarts of wax in the dish of your wax warmer. For our wax melts, we recommend using just one cube to prevent overflow when wax is melted.
-Turn on your melter. If you are using a tea light melter, light the tea light candle and place it in the hole under the dish. If you are using an electric warmer, there should be a button or switch to turn it on.
-To change the wax from your melter, wait until the wax completely cools and pop it out of the dish. For easier clean up and wax melt reuse, check out our wax melt silicone cups!
-Do not burn for more than 4 hours at a time
-Do not leave unattended or in the reach of children or pets
-DO NOT add water to your warmer
-Do not place your warmer on or near flammable surfaces or items