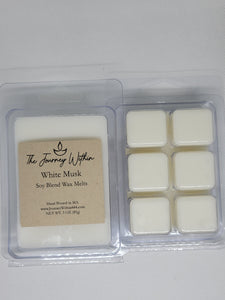 White Musk Soy Blend Wax Melt
White Musk is a warm blend of bergamot, mahogany and a delicate veil of musk resulting in a fragrance that is both cozy and an outstanding unisex scent.
Note Profile
Top: bergamot
Middle: mahogany
Base: musk
Weight and Burn time: Package weight: 3oz.  1 cube Burn Time: approx 8 Hours
Product Details: 
- Parasoy wax blend
-Reusable until scent fades (approx 8 hours burn time)
- Individually hand-poured, hand labeled and crafted in small batches
Uses & Recommendations:
- Make sure to read all instructions that come with your wax warmer.
-Place 1 or 2 cubes or tarts of wax in the dish of your wax warmer. For our wax melts, we recommend using just one cube to prevent overflow when wax is melted.
-Turn on your melter. If you are using a tea light melter, light the tea light candle and place it in the hole under the dish. If you are using an electric warmer, there should be a button or switch to turn it on.
-To change the wax from your melter, wait until the wax completely cools and pop it out of the dish.
-Do not burn for more than 4 hours at a time
-Do not leave unattended or in the reach of children or pets
-DO NOT add water to your warmer
-Do not place your warmer on or near flammable surfaces or items